Oregon Rest Areas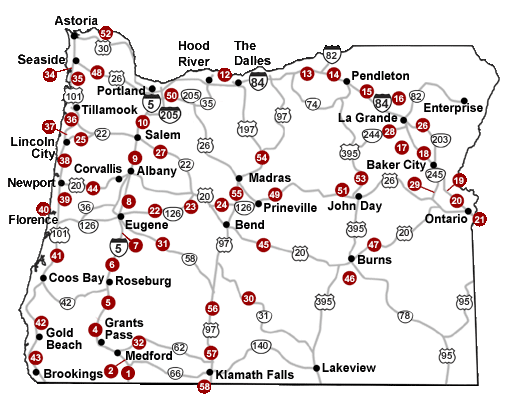 Rest areas are provided by the Department of Transportation to offer a stopping place for travelers to take a short break from driving, relax, have a snack, or use the restroom. Many of these rest areas are managed by Oregon Travel Information Council. All of the Department's Interstate rest areas and most of our rest areas on other highways are ADA accessible. Other features may include picnic tables, drinking water, traveler information and vending machines. Please help keep these rest areas available to all by using them as they are intended, and by following the posted rest area rules.
To supplement the Department's rest areas, arrangements have been made with other entities to provide additional rest opportunities for travelers. The features of these other rest opportunities, as well as their rules of use may vary based on the site however they all have restrooms and are available at no charge.
The rest areas managed by Oregon Travel Information Council and the entity that provides the other rest opportunities are noted below. This list is organized by highway; the number to the left refers back to the map for location reference.
I-5

Siskiyou - Northbound Access Only (Note: Commercial vehicles over 20,000 GVW prohibited)
13 miles north of the California border (milepost 12.7)
Restrooms, Drinking Water, Accessible Facilities, Traveler Information, Vending Machines


Suncrest - Southbound Access Only
7 miles south of Medford (milepost 22.0)
Restrooms, Picnic Tables, Drinking Water, Accessible Facilities, Vending Machines, Traveler Information
(Oregon Travel Information Council)

Manzanita - Northbound and Southbound Access
5 miles north of Grants Pass (milepost 62.8)
Restrooms, Picnic Tables, Drinking Water, Accessible Facilities, Vending Machines, Historical Marker/Kiosk (northbound), Traveler Information
(Oregon Travel Information Council)

Jordan Creek - Northbound and Southbound Access
In Canyonville (milepost 99.0)
Restrooms, Picnic Tables, Drinking Water, Accessible Facilities, Vending Machines
(Cow Creek Band of the Umpqua Tribe of Indians)

Cabin Creek - Northbound and Southbound Access
20 miles north of Roseburg (milepost 142.8)
Restrooms, Picnic Tables, Drinking Water, Accessible Facilities, Vending Machines, Historical Marker/Kiosk (southbound), Traveler Information
(Oregon Travel Information Council)

Gettings Creek - Northbound and Southbound Access
14 miles south of Eugene (milepost 178.0)
Restrooms, Picnic Tables, Drinking Water, Accessible Facilities, Vending Machines, Traveler Information
(Oregon Travel Information Council)

Oak Grove - Northbound and Southbound Access
13 miles north of Eugene (milepost 206.0)
Restrooms, Picnic Tables, Drinking Water, Accessible Facilities, Vending Machines, Traveler Information
(Oregon Travel Information Council)

Santiam River - Northbound and Southbound Access
8 miles north of Albany (milepost 240.9)
Restrooms, Picnic Tables, Drinking Water, Accessible Facilities, Vending Machines, Traveler Information
(Oregon Travel Information Council)

French Prairie (Baldock) - Northbound and Southbound Access
14 miles south of Portland (milepost 281.6)
Restrooms, Picnic Tables, Drinking Water, Accessible Facilities, Vending Machines, Traveler Information
(Oregon Travel Information Council)

I-84

Memaloose - Eastbound and Westbound Access
11 miles west of The Dalles (milepost 72.9)
Restrooms, Picnic Tables, Drinking Water, Accessible Facilities, Historical Marker/Kiosk, Traveler Information
(Oregon Travel Information Council)

Boardman - Eastbound and Westbound Access
2 miles west of Boardman (milepost 160.9)
Restrooms, Picnic Tables, Drinking Water, Accessible Facilities, Vending Machines, Traveler Information (eastbound)
(Oregon Travel Information Council)

Stanfield - Eastbound and Westbound Access
20 miles west of Pendleton (milepost 186.5)
Restrooms, Picnic Tables, Drinking Water, Accessible Facilities, Vending Machines, Historical Marker/Kiosk, Traveler Information, Horse Area
(Oregon Travel Information Council)

Deadman Pass - Eastbound and Westbound Access
18 miles east of Pendleton (milepost 228.9)
Restrooms, Picnic Tables, Drinking Water, Accessible Facilities, Vending Machines, Historical Marker/Kiosk, Traveler Information
(Oregon Travel Information Council)

Hilgard Junction State Park - Eastbound and Westbound Access
8 miles west of La Grande (milepost 253.0)
Restrooms, Picnic Tables, Drinking Water, Historical Marker/Kiosk
(Oregon Parks and Recreation Department)

Charles Reynolds - Eastbound and Westbound Access
9 miles east of La Grande (milepost 269.2)
Restrooms, Picnic Tables, Drinking Water, Accessible Facilities, Vending Machines, Historical Marker/Kiosk, Traveler Information, RV Sanitary Dump Station (eastbound only), Horse Area (westbound only)
(Oregon Travel Information Council)

Baker Valley - Eastbound and Westbound Access
10 miles west of Baker (milepost 295.0)
Restrooms, Picnic Tables, Drinking Water, Accessible Facilities, Vending Machines, Historical Marker/Kiosk, Traveler Information
(Oregon Travel Information Council)

Weatherby - Eastbound and Westbound Access
38 miles west of Ontario (milepost 335.9)
Restrooms, Picnic Tables, Drinking Water, Accessible Facilities, Vending Machines, Historical Marker/Kiosk, Traveler Information
(Oregon Travel Information Council)

Ontario State Park - Eastbound and Westbound Access
In Ontario (milepost 371.0)
Restrooms, Picnic Tables, Drinking Water, Accessible Facilities
(Oregon Parks and Recreation Department)

Ontario - Westbound Access Only
1 mile east of Ontario (milepost 377.4)
Restrooms, Picnic Tables, Drinking Water, Accessible Facilities, Vending Machines, Historical Marker/Kiosk, Traveler Information
(Oregon Travel Information Council)

OR126

Ben and Kay Dorris State Park - Eastbound and Westbound Access
31 miles East of Springfield (milepost 29.2)
Restrooms, Picnic Tables, Drinking Water
(Oregon Parks and Recreation Department)

JB Harris State Park - Eastbound and Westbound Access
1 mile East of McKenzie Bridge (milepost 50.8)
Restrooms, Picnic Tables
(Oregon Parks and Recreation Department)

Cline Falls State Park - Eastbound and Westbound Access
4 miles west of Redmond (milepost 107.8)
Restrooms, Picnic Tables, Drinking Water, Accessible Facilities
(Oregon Parks and Recreation Department)

OR18

Van Duzer Corridor State Park - Eastbound and Westbound Access
13 miles east of Lincoln City (milepost 9.7)
Restrooms, Picnic Tables, Drinking Water, Accessible Facilities
(Oregon Parks and Recreation Department)

OR203

Catherine Creek State Park - Eastbound and Westbound Access
8 miles southeast of Union (milepost 8.3)
Restrooms, Picnic Tables, Drinking Water
(Oregon Parks and Recreation Department)

OR22

The Maples - Eastbound and Westbound Access
37 miles east of Salem (milepost 34.6)
Restrooms, Picnic Tables, Drinking Water, Accessible Facilities
(Oregon Travel Information Council)

OR244

Red Bridge Wayside State Park - Eastbound and Westbound Access
16 miles southwest of La Grande (milepost 39.5)
Restrooms, Picnic Tables, Drinking Water
(Oregon Parks and Recreation Department)

OR245

Unity Lake State Park - Northbound and Southbound Access
50 miles east of John Day (milepost 2.5)
Restrooms, Picnic Tables, Drinking Water, RV Sanitary Dump Station
(Oregon Parks and Recreation Department)

OR31

Summer Lake - Northbound and Southbound Access
63 miles north of Lakeview (milepost 69.1)
Restrooms, Picnic Tables, Drinking Water, Accessible Facilities, Historical Marker/Kiosk

OR58

Greenwater Rec Area - Eastbound and Westbound Access
In Oakridge (milepost 36.2)
Restrooms, Picnic Tables, Drinking Water, Accessible Facilities, Historical Marker/Kiosk
(City of Oakridge)

OR62

Casey State Park - Northbound and Southbound Access
29 miles north of Medford (milepost 29.0)
Restrooms, Picnic Tables
(Oregon Parks and Recreation Department)

US101

Tolovana Wayside State Park - Northbound and Southbound Access
In Cannon Beach (milepost 28.0)
Restrooms, Picnic Tables, Drinking Water
(Oregon Parks and Recreation Department)

Oswald West State Park - Northbound and Southbound Access
10 miles south of Cannon Beach (milepost 39.0)
Restrooms, Picnic Tables, Drinking Water, Accessible Facilities
(Oregon Parks and Recreation Department)

Tillamook River - Northbound and Southbound Access
5 miles south of Tillamook (milepost 70.6)
Restrooms, Picnic Tables, Accessible Facilities
(Oregon Travel Information Council)

Neskowin State Park - Northbound and Southbound Access
5 miles north of Lincoln City (milepost 97.7)
Restrooms, Picnic Tables, Drinking Water, Accessible Facilities
(Oregon Parks and Recreation Department)

Boiler Bay State Park - Northbound and Southbound Access
1/2 mile north of Depoe Bay (milepost 126.2)
Restrooms, Picnic Tables, Drinking Water, Accessible Facilities
(Oregon Parks and Recreation Department)

Driftwood State Park - Northbound and Southbound Access
3 miles north of Waldport (milepost 153.2)
Restrooms, Picnic Tables, Drinking Water, Accessible Facilities
(Oregon Parks and Recreation Department)

CG Washburne State Park - Northbound and Southbound Access
14 miles north of Florence (milepost 176.0)
Restrooms, Picnic Tables, Drinking Water, RV Sanitary Dump Station
(Oregon Parks and Recreation Department)

William Tugman State Park - Northbound and Southbound Access
8 miles south of Reedsport (milepost 220.7)
Restrooms, Picnic Tables, Drinking Water, Accessible Facilities, RV Sanitary Dump Station
(Oregon Parks and Recreation Department)

Ophir Wayside State Park - Northbound and Southbound Access
10 miles north of Gold Beach (milepost 319.0)
Restrooms, Picnic Tables, Drinking Water
(Oregon Parks and Recreation Department)

Harris Beach State Park - Northbound and Southbound Access
2 miles north of Brookings (milepost 355.7)
Restrooms, Picnic Tables, Drinking Water, Accessible Facilities, Vending Machines, Traveler Information, RV Sanitary Dump Station
(Oregon Parks and Recreation Department)

US20

Ellmaker Wayside State Park - Eastbound and Westbound Access
22 miles west of Corvallis (milepost 31.9)
Restrooms, Picnic Tables, Drinking Water, Accessible Facilities
(Oregon Parks and Recreation Department)

Brothers Oasis - Eastbound and Westbound Access
41 miles east of Bend (milepost 42.8)
Restrooms, Picnic Tables, Accessible Facilities, Horse Area

Sage Hen - Eastbound and Westbound Access
18 miles west of Burns (milepost 114.1)
Restrooms, Picnic Tables, Drinking Water, Accessible Facilities, Traveler Information

Buchanan Springs - Eastbound and Westbound Access
24 miles east of Burns (milepost 155.9)
Restrooms, Picnic Tables, Drinking Water, Accessible Facilities

US26

Sunset - Eastbound and Westbound Access
31 miles east of Seaside (milepost 28.6)
Restrooms, Picnic Tables, Drinking Water, Accessible Facilities, Historical Marker/Kiosk
(Oregon Travel Information Council)

Bandit Springs - Eastbound and Westbound Access
40 miles east of Prineville (milepost 48.7)
Restrooms, Accessible Facilities

Government Camp - Eastbound and Westbound Access
4 miles east of Rhododendron (milepost 54.0)
Restrooms, Drinking Water, Accessible Facilities
(Oregon Travel Information Council)

Clyde Holiday State Park - Eastbound and Westbound Access
4 miles west of John Day (milepost 155.2)
Restrooms, Picnic Tables, Drinking Water, Accessible Facilities, RV Sanitary Dump Station (open March through November)
(Oregon Parks and Recreation Department)

US30

Bradley State Park - Eastbound and Westbound Access
22 miles east of Astoria (milepost 74.9)
Restrooms, Picnic Tables, Drinking Water, Historical Marker/Kiosk
(Oregon Parks and Recreation Department)

US395

Carter - Northbound and Southbound Access
3 miles south of Long Creek (milepost 93.3)
Restrooms

US97

Cow Canyon - Northbound and Southbound Access
21 miles south of Maupin (milepost 68.7)
Restrooms, Picnic Tables, Drinking Water, Accessible Facilities
(Oregon Travel Information Council)

Peter Skene Ogden State Park - Northbound and Southbound Access
25 miles north of Bend (milepost 112.6)
Restrooms, Picnic Tables, Drinking Water, Historical Marker/Kiosk
(Oregon Parks and Recreation Department)

Beaver Marsh - Northbound and Southbound Access
5 miles south of Chemult (milepost 206.5)
Restrooms, Picnic Tables, Drinking Water, Accessible Facilities, Historical Marker/Kiosk (southbound), Traveler Information
(Oregon Travel Information Council)

Collier State Park - Northbound and Southbound Access
30 miles north of Klamath Falls (milepost 244.0)
Restrooms, Picnic Tables, Drinking Water, Accessible Facilities, Historical Marker/Kiosk, Horse Area
(Oregon Parks and Recreation Department)

Midland - Northbound and Southbound Access
8 miles south of Klamath Falls (milepost 282.3)
Restrooms, Picnic Tables, Drinking Water, Accessible Facilities, Vending Machines, Historical Marker/Kiosk, Traveler Information, Horse Area
(Oregon Travel Information Council)