New Features
TripCheck Has a New Map and Features!
Welcome to our updated What's New page where you can find information about the upgrade to Tripcheck. Check back often as new features and tools are added to TripCheck.
Live Traffic Layer
Esri and HERE are providing ODOT with near real-time traffic congestion information. We've provided this as a layer on TripCheck so travelers can now see how traffic is flowing anywhere in the state.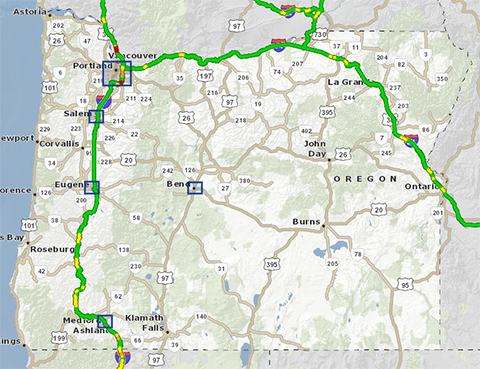 Interactive Map Legend
We've upgraded the Map Legend to include control over the maps layers. Now you can toggle any feature layer and save your view using the check box next to the feature. Be sure to expand the layer's legend with the expand icon to view all the features you can toggle.

Pan and Zoom
TripCheck now has maps that allow you to pan and zoom. Left-click and drag to pan the map. Use your scroll-wheel, or the +/- buttons on the map to zoom in and out.
Try the new map and let us know what you think!